Back to home
About the Puzzles
Are they for kids?
Nope, these are for puzzlers with a grown-up vocabulary (much like the crosswords in the newspapers). Mostly this is because some words used are unlikely to be familiar to young children, however there is also the occasional mild 'adult concept' or curse word.
How hard are they?
This will depend on the solver's experience, however they aren't intended to be fiendishly difficult. Scroll down for some samples.
How are they made?
The puzzle booklets are printed locally and I bind them using cardboard, embroidery thread and a simple stab binding technique. When you have finished, the string can be removed and the paper/card recycled. Some of the smaller sets of puzzles (folded or in envelopes) I print myself. In general, my aim is to keep things simple and stick to paper/card for puzzles and packaging.
What exactly is in each booklet/set of puzzles?
An Introduction to Cryptic Crosswords
see sample pages here
for people who want to learn how to do cryptic crosswords
the vocabulary is suitable for keen teens as well as adults
common types of cryptic clue are introduced with examples and practise puzzles
there are 10 puzzles in total, plus answers with an explanation for each clue
10 Little Christmas Cryptics
10 gridless, themed cryptics (see sample #4)
for fans of cryptic crosswords
all on a Christmas theme
12 Little Christmas Puzzles
12 puzzles of 5 different types, including these, word finds, anagrams and others
all on a Christmas theme
10 Little Puzzles - Word finds about cats
what it says on the tin: 10 word finds on a variety of cat-related topics
24 Little Cryptic Puzzles
24 gridless, themed cryptics (see sample #4)
random themes
for fans of cryptic crosswords
24 Little Cryptic Puzzles About Cats
12 gridless, themed puzzles (see sample #4)
12 diamond grid puzzles (see sample #5)
for ailurophile fans of cryptic crosswords
Little Puzzles About Tea
41 puzzles, including every type shown below, plus word finds and anagrams
includes cryptic clues but also non-cryptic alternatives for the same puzzles
for tea-drinking word nerds
Mum Words
all involving words relating to 'mother' in some way
choose either cryptic or straight versions—the answers are the same in both
for mums and word nerds
Spring puzzles
a small set of mixed puzzles on a spring theme (non-cryptic)
Little puzzles - Creatures that build
a small set of cryptics, each about a creature that builds something interesting
Love words
a small set of mixed puzzles on a love/Valentines theme (non-cryptic)
Samples
1
2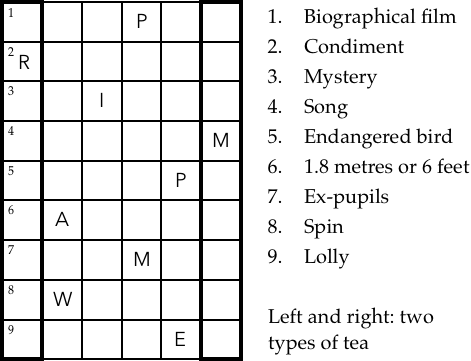 3
4
5